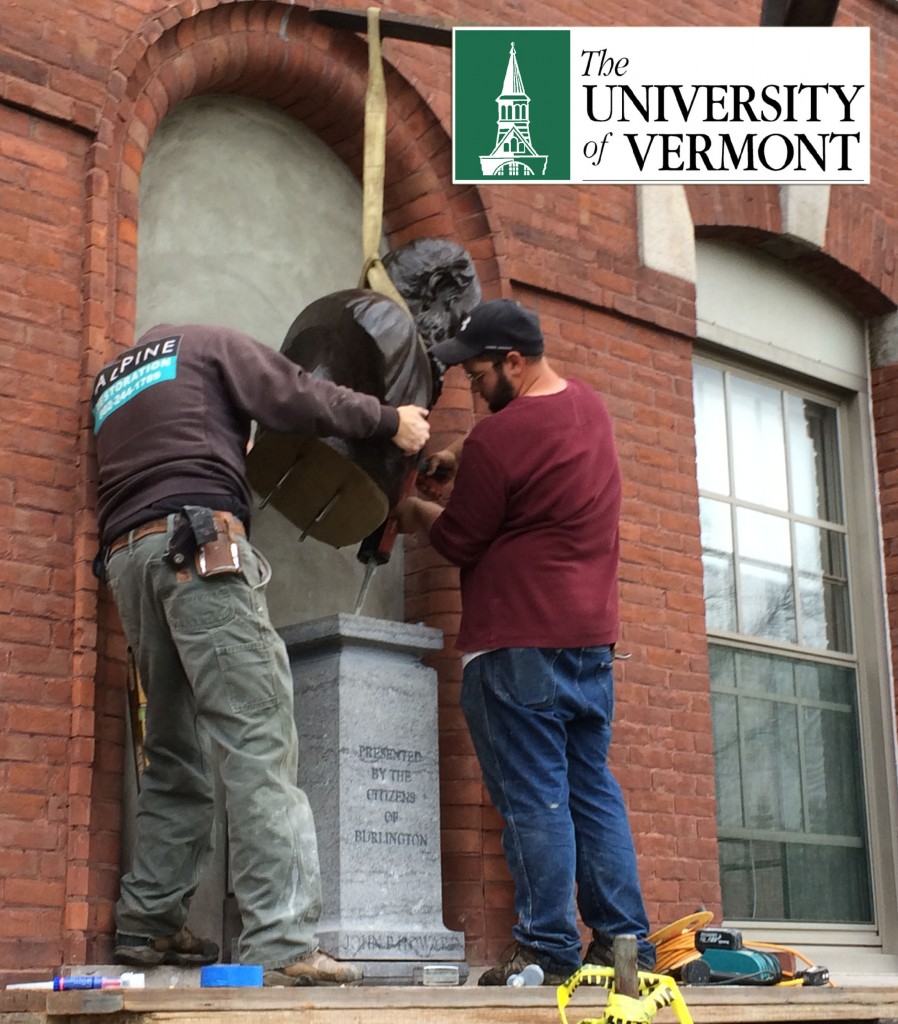 Excerpts from "Big Man Back on Campus" by Thomas James Weaver
With the help of Alpine Building Restoration, the rested, reinforced and restored bust of John Purple Howard returned to the front of Old Mill on the University of Vermont Campus.
It has been seven years since the bust of the distinguished 19th-century Burlingtonian and stalwart supporter of the university was removed for restoration. Budgetary hurdles and the "surprises" inherent in working on a 130-year-old work of art conspired to make it a lengthy sabbatical.
Shirley Fortier, campus planning, guided the efforts to restore the statue (the work of art conservators at Watertown, Mass.-based Daedalus, Inc.). And David Blatchly, physical plant, has been the point person as the site has been prepared and upgraded by Alpine Building Restoration of Waterbury, Vt., to give JPH a safe and sound pedestal.
The project is the latest in a number of UVM public sculpture restorations completed in the last several years under the leadership of Linda Seavey, campus planning services director, and the UVM Ad Hoc Sculpture Committee.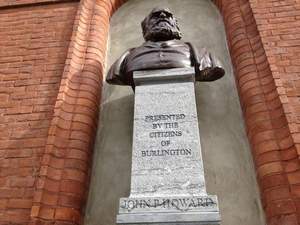 Who was John Purple Howard and why was he bust-worthy?
A native son of Burlington, born in 1814, he learned the hotel business from his father and later went into the same industry in New York City with his brother. The Old Exchange, Howard House, and the Irving Hotel were among the ventures that allowed him to retire and return to Burlington a relatively young and decidedly rich man. He was also a generous one. His gifts to Burlington, which totaled nearly $300,000, included the Howard Opera House and block, proceeds that went to support the city's home for destitute children.
Howard's philanthropy extended to UVM, as well.
He funded the construction of a new medical college building (the predecessor to Dewey Hall), an endowed chair in natural history and zoology, the fountain on the Green, and an 1885 renovation/facelift for Old Mill that created the building's Victorian façade we know today. The bust of Howard wasn't a case of the philanthropist celebrating himself; it was a gift from the citizens of Burlington in recognition of all he had done for the city and the university.